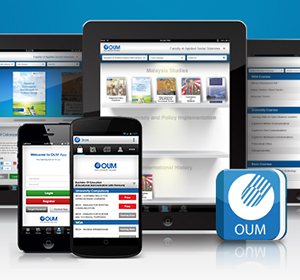 OUM M-Learning Mobile Application
Profile of Company / Organization / Institution 
This project is a partnership between OUM & Fireworks.
Open University Malaysia was established in August 2000 and is the nation's first open university.
Fireworks Solutions Sdn Bhd is the technology partner in this project. Fireworks is a Digital Innovation Agency since 2003.
Synopsis of Product
A New Generation of Education System that enable Students to purchase and consume educational materials from their Smart Mobile Devices such as iPad, iPhone, Android Phones & Android Tablets.
Educational Materials are designed to be interactive, multimedia and viewable anywhere, anytime, with or without internet connectivity.
The OUM App integrates with the existing E-Learning Platform and Student Database, extending the accessibility of learning materials to the new generation mobile devices.
This application is will change the way university students consume learning materials.
Technology Employed
Platforms : Apple iOS, Google Android
The Mobile Application Frontend is powered with Titanium Appcelerator, which provides speed and scalbility towards development in multiple mobile platform.
We had also implemented a very powerful analytics, Flurry Analytics, a system to track and understand the behavior and data of the users of the App.
An intelligent back-end powered via Code Igniter PHP framework, with MySQL Database, to serve and create interactive content to the multiple platform.
Students are able to Purchase Additional Learning materials via the Apple In-App Purchase Technology.
Advantage / Uniqueness
E-Learning on Mobile Devices, done right :
In this age, the adoption of the Smart Mobile Device surpasses the personal computers. Which means by enabling M-Learning, this application opens up a huge market for OUM's Open & Distance Learning,
E-Learning without internet connection :
Malaysia's internet penetration is still not fully matured especially in rural areas. This system is designed to enable e-Learning to take place in even rural areas with limited internet connection.
All Learning Materials can be downloaded into the Device, and can be accessed without Internet connection.
New Revenue for University :
Mobile Payment System enable Learning Materials to be Purchased within the Application.
Innovation
Learning materials are designed for powerful interactivity and and multi-media. 
Learning has been enhanced with Podcast for listening, Video Recording of Lectures, PDF Reference Books, Interactive HTML Workbook, Web Links, Glossaries and much more.
Everything Is In The Cloud :
Once student purchased the learning materials, Users can access it via other devices, anywhere and anytime.
Others :
Communication with Students: In App News & Newsletter, Instant Push Notifications.
Membership Module : Allow Guest Mode, Student Mode & Preview Mode
Content Management System :
Allow users to manage & create Learning Materials very easily, without the technical knowledge of Mobile Application Development!
Workflow Management:
Manage reviews & publishing with a organized workflow module.
Quality / Recognition 
Designed by Master Craftsmen : Designed very carefully to have high standards in User Interface and User Experience. 
Fireworks is an expert in application design since year 2003 
Enhance productivity and efficiency : The system is designed to allow entry level workforce in the University to able to create content using existing content, easily and effortlessly using our system. 
Dedicated Support : A team of Customer Support is dedicated to support users of this Application. 
Proudly Malaysian: This product is proudly designed in Malaysia and it's the First-Of-Its-Kind in Malaysia. This application will kick start the M-Learning in Malaysia.
Potential
Target Market : Students & Working Students from across the globe.
Export, employment or economical potential : Potential to export to universities on other countries.
Wider applicability : This system can be applied to all universities, Schools and other Learning Centers. 
Future benefits to other industries : Kick Start the M-Learning in Malaysia.
Strategies in place to develop and remain ahead of competition: Improving on Features and Adding more platform.