Fireworks Launches FZ.Com News Portal.
News Release : Fireworks Launches FZ.Com News Portal.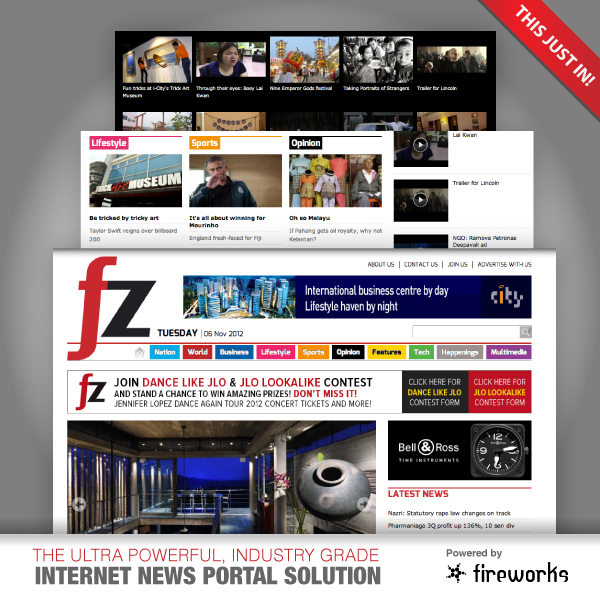 Fireworks Solutions Sdn Bhd together with it's client Fz.com Sdn Bhd, unveils it's "Free, Fair and Fun" Online News Portal.
About Fz.com Fz.com, a vibrant website that offers news and views across a wide spectrum of subjects. Thoughtful and incisive in reporting on issues of national and international importance, it's news portal delivers free content in a timely and easy manner, including events touching on the lighter side of life. It's free, fair and fun. About the News Portal Solution Powered by Fireworks Solutions Sdn Bhd, this feature rich news portal boast to be intelligently designed, advanced and fully optimized for the new generation of readers. Intelligent Design Web Development is not just about building something that function. It requires great understanding in The Consumer, The Brand and The Priorities. We've pride ourselves for putting Aesthetics and User Experience, a top priority.
Smart and user friendly for viewing pleasure
Designed for speed and stability.
Fully optimized for Mobile Tablet viewing
Support for Smart Phones
Technology The core technology is one of the Most Stable and Secured Open-source Content Management System. Fine-tuned from 10 years of web building experience, Fireworks makes this technology even better.
Interactive, Multimedia and Social
More than 30 layers of Security enforced to make sure this system hacker proof.
Versatile and Highly Customizable for any News or Publications Agency.
Search Engine Optimized
Multiple Disaster Recovery Solutions
Integrated with Ad Serving Technology
Integrate with Thirdparty News
Powerful Admin System A smart Admin System allows Writers and Editors to have productive and error-free news publishing. The Technology comes with a very complete Admin Modules, which is arguably one of the best in its category.
Workflow Management Module
Version Management Module
Publishing Scheduler Module
Social media Publisher Module
Content & Interaction Moderation
Keyword Tagging Module
Rich and Easy to use Article Templates